The Puerto Rican Experience in the United States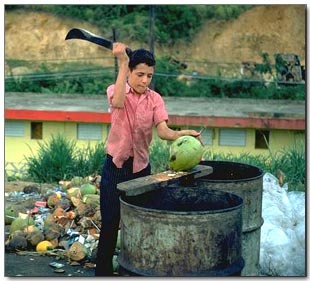 From the time they were granted citizenship in 1917 (The Jones Act), Puerto Ricans have experienced adjustment issues as they settled in the U.S. mainland. Some say that a new Puerto Rican has emerged in the mainland, especially in New York City, where there is a large concentration of people of Puerto Rican descent (Peña-Perez, 2000, p. 4). A pressing issue for them is their identity. For Puerto Ricans, cultural identification supersedes everything else (Peña-Perez p. 4).
I am what I am.
A child of the Americas.
A light-skinned mestiza of the Caribbean.
A child of many diaspora, born into this
continent at a crossroads.
I am Puerto Rican. I am U.S. American.
I am New York Manhattan and the Bronx.
A mountain-born, country-bred, homegrown
jíbara child,
up from the shtetl, a California Puerto Rican Jew.
A product of the New York ghettos I have never known.
I am an immigrant
and the daughter and granddaughter of immigrants.
We didn't know our forbears' names with a certainty.
They aren't written anywhere.
First names only, or mija, negra, ne, honey, sugar, dear.
I come from the dirt where the cane was grown.
My people didn't go to dinner parties. They weren't invited.
I am caribeña, island grown.
Spanish is in my flesh, ripples from my
tongue, lodges in my hips,
the language of garlic and mangoes.
Boricua. As Boricuas come from the isle or
Manhattan.
I am of latinoamerica, rooted in the history of my continent.
I speak from that body. Just brown and pink
and full of drums inside.
I am not African. Africa waters the roots of my tree, but I cannot return.
I am not Taína.
I am a late leaf of that ancient tree,
and my roots reach into the soil of two
Americas.
Taíno is in me, but there is no way back.
I am not European, though I have dreamt of those cities.
Each plate is different,
wood, clay, papier maché, metal, basketry, a
leaf, a coconut shell
Europe lives in me but I have no home there.
The table has a cloth woven by one, dyed by another,
embroidered by another still.
I am a child of many mothers.
They have kept it all going.
All the civilizations erected on their backs.
All the dinner parties given with their labor.
We are new.
They gave us life, kept us going,
Brought us to where we are.
Born at a crossroads.
Come, lay that dishcloth down. Eat, dear, eat
History made us.
We will not eat ourselves up inside anymore.
And we are whole.
Aurora Levins Morales

Prominent Puerto Ricans
Below are some examples of noteworthy Puerto Ricans:
Roberto Clemente, baseball player, member of the Baseball Hall of Fame
Maritza Correia, the first black Puerto Rican woman on the U.S. Olympic Swimming Team
Hector Elizondo, actor (Pretty Woman, The Princess Diaries)
Erik Estrada, actor (TV series CHiPs, Sealab 2021)
José Feliciano, singer, composed "Feliz Navidad"
José Ferrer, actor (Cyrano de Bergerac), first Hispanic actor to win an Academy Award
José Vicente Ferrer – An academy-award-winning actor, director, and producer.
Raul Julia – A stage-and-screen actor who won 4 Tony nominations and is perhaps best known for his role in the film "The Addams Family" and its sequel, as well as for "The Kiss of the Spider Woman".
Jennifer Lopez, singer and actress
Ricky Martin, singer
Rita Moreno - An actress who has secured a distinct place in movie history, notably because of her role in Robert Wise's 1961 film West Side Story about Puerto Ricans in New York.  Her role in this film brought her fame and won her an Oscar as best supporting actress.  She is the first woman ever to win all four biggest awards in show business: Oscar (movies), Tony (Broadway Theater), Emmy (TV), and Grammy (recording).
(Source: Music of Puerto Rico Foundation website, 2004)
Geraldo Rivera, journalist
Ricardo Alvarez Rivon, - cartoonist and creator of "Turey"
Elizabeth Vargas, "Liz" anchor "ABC News 20/20"
Source: http://www.nationmaster.com/encyclopedia/List-of-famous-Puerto-Ricans