Phonology
The Study of the Sound System of a Language The Spanish language sound system is composed of vowels and consonants. Most sources report that there are 18 consonant sounds and five vowels in Spanish. There are also allophonic variations on some of the consonants (such as: labiodentalized /b/, dentalized /d/ and dentalized /s/ and /z/), (Goldstein & Washington, 2001; Lowe, 1994).
The sound system of the primary language, L1, can influence a child's pronunciation of sounds in the second language, L2. These sound changes can vary depending on the phonetic context. Please refer to the information below for a listing of possible sound changes that can be heard when Spanish bilingual students pronounce certain letters in various word positions. Children may also apply these sound differences when attempting to spell words; thus, the orthography of the words that they are spelling may reflect their mispronunciations.

Phonemes (the Smallest Unit of Sound in Language)
Phonemes are contrasted speech sounds that make a difference in meaning. In the Spanish and Portuguese languages, phonemes are classified as consonants and vowels. Spanish has five vowel sounds, Portuguese has seven, and English has 11. These vowel sounds are represented by a variety of graphemes.
VOWELS: A E I O U
Spanish, Portuguese and English vowel phonemes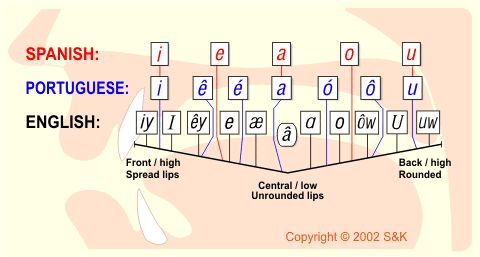 From Spanish, Portuguese and English vowel phonemes on the sound spectrum of human speech. Copyright 2004. by Schütz, R. Used with permission.

Spanish Consonants
| | | | | | | | | | | | | | | | | | | | | | | | | |
| --- | --- | --- | --- | --- | --- | --- | --- | --- | --- | --- | --- | --- | --- | --- | --- | --- | --- | --- | --- | --- | --- | --- | --- | --- |
| b | c | ch | d | f | g | h | j | k | l | ll | m | n | ñ | p | q | r | rr | s | t | v | w | x | y | z |
English Consonant Phonemes
Position

B
I
L
A
B
I
A
L
L
A
B
I
O
D
E
N
T
A
L
I
N
T
E
R
D
E
N
T
A
L

A
L
V
E
O
L
A
R

P
A
L
A
T
A
L

V
E
L
A
R

G
L
O
T
T
A
L

Manner

Vl.

Vd.

Vl.

Vd.

Vl.

Vd.

Vl.

Vd.

Vl.

Vd.

Vl.

Vd.

Vl.

STOPS

p

b

t

d

k

g

AFRICATES

tsh

dzh

FRICATIVES

f

v

ø

•

s

z

sh

zh

h

NASALS

m

n

µ

RETROFLEXES

r

LATERALS

l

FLAPS

occur only on the phonetic level. Ex: water (' wa Ð âr)

TRILLS

never occur in English, except in Scottish

GLIDES

w

y

Vl. = voiceless (sem vibração das cordas vocais)

Vd. = Voiced (acompanhado de vibração das cordas vocais)

Spanish Consonant Phonemes
Position

B
I
L
A
B
I
A
L

L
A
B
I
O
D
E
N
T
A
L

D
E
N
T
A
L

A
L
V
E
O
L
A
R

P
A
L
A
T
O
-
A
L
V
E
O
L
A
R

P
A
L
A
T
A
L

V
E
L
A
R

Manner

Vl.

Vd.

Vl.

Vd.

Vl.

Vd.

Vl.

Vd.

Vl.

Vd.

Vl.

Vd.

Vl.

Vd.

STOPS

p

b

t

d

k

g

AFRICATES

tS
dZ

FRICATIVES

B

f

T
D

s

z

Æ

NASALS

m

M
n

ø

N

RETROFLEXES

LATERALS

l

[´]

TAP

R

TRILLS

r
GLIDES

APPROX
[¨]
Source: Adapted from MacKenzie, I. (n.d.)

Syllables (Units of Language Smaller than a Word, but Larger than a Phoneme)
Syllables are units of language smaller than a word but larger than a phoneme. A syllable may be defined as "pulses of speech that carry its rhythm: The word bicycle has three syllables . . . " (Gillet, 2004). Goswami (2000) points out that English-speaking children appear to show awareness of syllables by age four.
Syllabic structures vary from language to language. Dividing English words into syllables poses special challenges to English language learners from Spanish-speaking backgrounds, because word segmentation (into syllables) is much harder to hear and determine in English. In fact, American English dictionaries include syllabic segmentation, stressed syllable and phonetic transcription in each word entry. Spanish dictionaries do not include these features because syllable division, stress and pronunciation are very predictable.
Syllables in Spanish consist of three types:
Direct (open) syllables have either a consonant preceding a vowel (sa/pa/to – shoe) or a syllable that is composed of only a vowel (a/zul – blue). This structure is the most common.
Indirect (closed) syllables have a vowel preceding the consonant (ar/te-art, al/to-tall, cam/po – field and is/ca (bait)
Mistas (Compund) syllables – have elements of both direct and indirect structures (fras/co –bottle)
Common words in Spanish tend, on average, to have a higher number of syllables and are longer than in English, as illustrated below.

Syllable Count in English and Spanish
Body Parts:
Spanish
# of syllables
English
#of syllables
ca/be/za

3

head

1

bra/zo

2

arm

1

cue/llo

2

neck

1

ma/no

2

hand

1

ca/be/llo

3

hair

1

pier/na

2

leg

1

na/riz

2

nose

1

o/jos

2

eyes

1

o/re/jas

3

ears

1

ro/di/lla

3

knee

1

Total

24

10

Average # of syllables

2.4

1

Colors:

ro/jo

2

red

1

ver/de

2

green

1

a/zul

2

blue

1

ma/rrón

3

brown

1

a/ma/ri/llo

4

yellow

2

ne/gro

2

black

1

a/na/ran/ja/do

5

orange

2

Total

19

9

Average # of syllables

2.71

1.28

Suprasegmental Aspects of Spanish
According to Dalbor (1997), vowels and consonants, referred to as segmental sounds, are influenced in important ways by other phonological features called suprasegmental (or intonational) phonemes. Segmental features are important in many languages, including Spanish and English. Spanish, however, has a simpler system than English. There are three suprasegmental features: stress, pitch, and terminal or external juncture (Dalbor, 1997).

Stress
Stress is loudness or intensity. The Spanish stress system has only two stress phonemes: primary and weak. Stress is perceived mainly in vowels, although it occurs to some degree in voiced consonants as well. In Spanish, stress at the word level allows the speaker to make certain distinctions. For example, producing certain vowels (or vowel nuclei) louder enables speaker-hearers to distinguish between célebre (noun/"famous") and celebré (verb/"I celebrated"). Dalbor goes on to state that stress is extremely important in the Spanish language and considered phonemic because of the effect it has on meaning. It can change or obliterate meaning. For example, in Spanish papa ("the Pope"), papa <with accent on last "a">("father") cannot be used interchangeably.
All words in isolation have at least one primary stress, but in connected speech, these words are weakly stressed. For example, the Spanish verb form and the preposition para both have primary stress on the first syllable, pronounced (pa-ra). But within a phrase, the verb form retains the primary stress, i.e., "Stop the car" (Pa-ra el ko-che), whereas the preposition rarely does, i.e., "for the car" (pa-ra-el-ko-che).
In addition to word stress, there is also sentence stress. It generally coincides with either the first or last stressed syllable of the phonemic phrase where the pitch changes as well. Sentence stress is related to emotion and emphasis rather than grammatical or lexical categories, so the position is difficult to predict, if even possible (Dalbor, 1997).

Pitch
Pitch is the second suprasegmental feature which occurs on three contrasting levels: low /l/, mid /2/, and high /3/ or emphatic. Phonation, before pauses, can behave in three different ways. The pitch may rise slightly, drop slightly, or it may remain at the same level. These ways of ending phonation, referred to as terminal junctures, determine intonation. Spanish is considered an intonation language because it uses pitch on the phrase and sentence level, instead of on the word level, as in tone languages. Terminal junctures are features of tempo, volume, and pitch at the same time. However, the direction in which the pitch goes is the most obvious aspect of those features. The most common Spanish patterns are /2111/ for normal statements and information questions, as in these examples:
Voy a la escuela. (Mid-low-low-low pitch; "I go to school.")
¿Dónde queda la biblioteca? (Mid-low-low-low pitch; "Where is the library?")

The pattern changes for emphatic statements such as
¡Auxilio! /2311/ (Mid-high-low-low; crying for help).

The pattern generally is /2221/ for yes/no questions, as in:
Quieres comer ahora? (Mid-mid-mid-low; "Do you want to eat now?") [Sí. No]
and /111/ for vocatives, as in:
La visitamos (low-low-low),
as well as tag phrases, for example:
Yo también. ("Me, too.")
Rhythm
Rhythm is the last suprasegmental feature. According to Dalbor (1997), syllable length plays a significant role in determining rhythm. Even if you handle all segmental aspects of Spanish properly, you will not have a good Spanish accent until you can master Spanish syllable-timed rhythm. In contrast to English stress-timed rhythm, Spanish syllables all have nearly the same duration, causing a steady and staccato rhythm. The vowels remain the same in both stressed and unstressed syllables. In English, on the other hand, speakers use primary, secondary, and tertiary stresses but squeeze and reduce unstressed syllables in between.
Within all languages, sounds of a given word or morpheme can be altered, modified, or eliminated when changed or placed with other words. According to Lowe (1994), such alterations are called morphophonemic changes.
In Spanish, the single vowels are simple. However, the combination of these vowels can be complex. An important question to ask regarding vowels is: "Do the vowels remain separate, or do they combine?" This is dependent upon stress and style of speech.

Vowel Modifications in Spanish
Spanish contains five different types of modifications (Lowe, 1994):
Separated - a break between the two vowels, i.e., (de él)
Linked - the difference lies in conversation, i.e., de él can be pronounced without a break, or in the phrase, mi hijo, the syllables [mi-I-jo] run together and can sound like one word: m'ijo.
Fused - essentially this means forming a diphthong. Spanish contains 14 diphthongs.
Eliminated - unstressed and stressed vowels are recognized as one short vowel in rapid speech or slow speech "la abrí." Unstressed vowels such as /a/, /o/, /e/ are often eliminated within combinations such as la hora [lo-ra] The unstressed a is eliminated before o and e.
Replaced - when different vowels come together in rapid speech, one phoneme replaces another, i.e., /e/ is substituted by /i/ teatro becomes tiatro.

Example: The phrase "la oficina" has three pronunciations in terms of vowels. In careful speech, the phrase vowel sounds are linked [la oficina]; in rapid speech, the phrase vowel sounds can be either eliminated [lo fi si na] or replaced [lau fi si-na]. [The /u/ replaces /o/.]
Key Differences Between Spanish and English Vowels
Spanish words frequently end with stress vowels. However, in English, stress vowels are followed by consonants or one of three glides /y/ as in boy, /w/ as in cow, /h/ as in heh.
Spanish does not have an equivalent for the unstressed syllables that are found at the end of some words in English, as in final syllables containing a consonant plus - le, as in ap• ple, ta•ble)